NutriAyurCare is a company formed to provide holistic well-being through a blend of Ayurveda and Nutrition. The company was founded in 2002 by NCR's best ayurvedic doctor & nutritionist, Dr. Tanju Khurana.
We are pioneers in making diet plans based on Ayurvedic body type (Prakriti), 'Ashta Ahara Vidhi Visheshayatana', Blood group, Therapeutics, Customized plans as per the schedule and limited cooking options. One can enroll from home or just about anywhere in the world. You stay motivated by speaking to our consultant over the phone as per the defined schedule and can enjoy results with the ultimate convenience of doable diets.
NutriAyurCare is a blend of nutrition & ayurveda, which believs in making a 'Healthy You'. Here, we treat people with Nutritional diet plans & Lifestyle Modification, strongly emphasizing 'Smart Eating' by choosing healthy, assorted & filling eating options, without compromising on taste, likes-dislikes & social commitments.
At NutriAyurCare, we are dedicated and committed to ensuring that each client will set and meet eventually their health-related goals.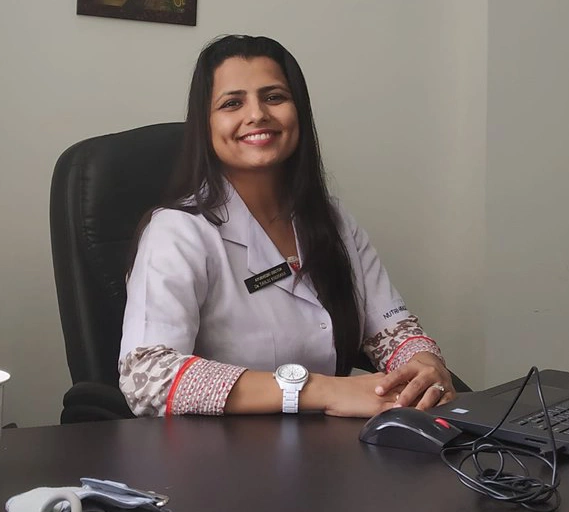 Dr. Tanju Khurana
18+ Years of Experience
BAMS (Ayurvedacharya), PGDND (Ayurvedic Diet and Nutrition)
Certifications in Panchkarma, Nadi Pariksha (Pulse Diagnosis), Marma Therapy, CNCC.
I am Ayurvedic Vaidya, Nutritionist & Holistic health consultant working in the field of health and wellness for the last 18 years. I passionately believe in attaining ultimate health through a holistic approach to Ayurveda & Nutrition.
I completed my bachelor's in Ayurveda (BAMS) followed by a postgraduate diploma in Ayurvedic & Panchbhautic diets. Further, I did courses like pulse diagnosis (Nadi Pariksha), Marma Therapy, Child care nutrition, Diabetes and other Lifestyle disorders to get well versed in the field of holistic health & giving people medicine free diet based solutions.
I work on the basis of the ayurvedic principles of 'Ashta Ahara Vidhi Visheshayatana'.
Personally connecting with clients/patients in order to address their health needs, making doable and sustainable modifications in their diets and lifestyle along with overall health improvement is the key aspect of our programs.
I strongly believe in research work & upgrading my knowledge.